Use the form below to contact us for more information or to purchase a map.
Maps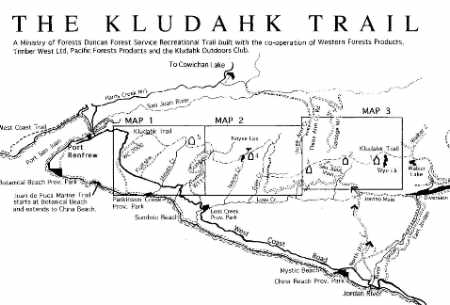 Maps can be purchased at a cost of $20 for a set of laminated maps.

For more information or to purchase a map, please fill out this form.
---
We welcome your donations!
You can make a donation by PayPal. You will receive a receipt for your donation from PayPal and you can ask for an official receipt at the Annual General Meeting. We appreciate your support.
*Please Note: This button can only be used for donations!
---
If you are hiking the trail in the winter: Reminder
Be prepared for winter conditions in all areas. It is your responsibility to be safe. Hazards are always involved with outdoor recreational activities, especially during the winter. Short trips can have serious consequences without proper planning. Minimize your risk by planning ahead. Weather can change rapidly and unexpectedly. Adjust your activities accordingly. Parts of the trail are impassable during the winter months.
Contact Director Virginia Lee Ph: 250-483-6520
---